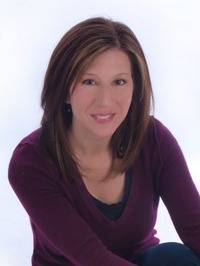 Anna Bennett
started swiping romances from her mom's bookshelf as a teenager and decided historicals (with their balls, dukes, and gowns) were the best. So, when she had the chance to spend a semester in London she packed her bags—and promptly fell in love with the city, its history, and its pubs. She dreamed of writing romance, but somehow ended up a software analyst instead.
Fortunately, a few years and a few careers later, Anna found her way back to writing the stories she loves and won the Romance Writers of America's Golden Heart® for Regency Historical Romance. She lives in Maryland with her husband and three children, who try valiantly not to roll their eyes whenever she quotes Jane Austen. Her weaknesses include reality TV, cute shoes, and coffee. Lots and lots of coffee.
Anna wrote some books under the pen name
Anne Barton
.
Connect with Anna:
Website
|
Facebook
|
Twitter
|
Goodreads
|
Amazon
|
Newsletter
Happy Joyathon, everyone—I love this tradition at Romancing Rakes! I have to confess that summer is my favorite season. I mean, it's hard to compete with sunny days, beautiful beaches, and frozen margaritas…but winter has its perks too! Here are my five favorite things about winter:
Wrapping presents – Turn on A Christmas Story and hand me a glass of wine, and I will happily wrap for hours. I don't care how big or odd-shaped the present is…BRING IT ON. My secret weapons are snowman wrapping paper and foil bows. You can't go wrong with peel and stick bows.
Pre-snowstorm shopping – When the forecast says snow, I can't wait to hit the grocery store for the necessities: chili fixings, muffins, casseroles, cookies, junk food, and COFFEE. It's fun to bond with other desperate shoppers in the bread aisle.
Watching hockey games – This might sound a little weird, but I like to watch hockey on TV while I write—but only when the team's regular play-by-play announcer is calling the game. He's charming in a geeky sportscaster sort of way and brings the team good luck. Told you it was weird. #Letsgocaps
Decorating for the holidays – Outdoor lights are my specialty. The process goes something like this. Phase 1: "This will be the year we impress all the neighbors!" Phase 2: "How did half of the light strands go bad in the attic?" Phase 3: Visit three stores to find matching lights. Pay exorbitant price. Hide receipt. Phase 4: Throw lights on bushes and make entire family walk to street in freezing cold to admire them. Family pretends lights are the best ever.
Reading in front of the fire – Heaven is curling up on the couch with a cup of cinnamon tea, my favorite blanket, and Lisa Kleypas's latest. Perfection!
However you celebrate, I hope your holidays are the BEST!
Series: Wayward Wallflowers #1
Genre: Historical
Page Count: 352
Publisher: St. Martin's Paperbacks
Release Date: October 4, 2016

NEVER SEND A DEBUTANTE…
William Ryder, Earl of Castleton, is at the end of his noble rope. Not only has he broken ties with his longtime mistress, his mother has publicly announced her wish for him to marry a suitable young lady—if only to help him raise the twins left in his care. Hiring a governess should solve some of Will's problems…but when he meets the candidate in question, he finds himself in an entirely new predicament.

TO DO A WALLFLOWER'S JOB
Miss Margaret Lacey is brainy, beautiful, and, once upon a time, Will's betrothed. But she bowed out of the engagement—and, since then, has never been the same. A tragic accident robbed her of everything, and now, at age twenty-three, her marital prospects are slim to none. Penniless but not without pride, Meg convinces the vexingly handsome Will to hire her for the job. What neither of them could have expected from this arrangement, however, is an attraction that burns stronger than ever. Are these two lost souls finally ready to be schooled in the art of love?

Buy From: Amazon | B&N | iBooks | Kobo | Books-a-Million | Book Depository
Other Books in Series:

Anna is giving away copy of MY BROWN-EYED EARL and a ballroom survival kit (US)
Leave a comment for Anna: Are there winter sports you like to watch?
Fill out the rafflecopter form to enter the giveaway.
a Rafflecopter giveaway
The Fine Print:
Open to persons of 18 years or older, some restrictions may apply. Giveaway runs December 1st-31st. Follow instructions on rafflecopter form to enter. Winner will be contacted by email so make sure you enter a valid email address. Kati/Romancing Rakes for the Love of Romance will not be held responsible for lost, stolen, or damaged package once items are sent. No substitutions or replacements due to nature of prizes. By entering the giveaway you agree to the terms stated.