Today's spotlight is on THE LIE AND THE LADY by Kate Noble. It's a fun new take on The Prince and the Pauper. I have it on the TBR pile and it will definitely be a January read. Kate's publisher is offering a copy of the first book in the Winner Takes All series so be sure to enter the giveaway at the end of the post.
Kate Noble is the national bestselling, RITA-nominated author of historical romances, including the acclaimed Blue Raven series and the Winner Takes All series. Her books have earned her numerous accolades, including comparisons to Jane Austen, which just makes her giddy.
In her other life as
Kate Rorick
, she is an Emmy-award winning writer of television and web series, having written for NBC, FOX, and TNT, as well as the international hit YouTube series
The Lizzie Bennet Diaries
. Kate lives in Los Angeles with her husband and son, and is hard at work on her next book.
"I make no apologies for trying to secure my future. And a countess and an earl are natural together. A countess and a secretary"—she practically spat the word—"are not."
"Weren't we?" He stepped forward, his hand loosening on her arm, but not letting go. He let his hand trail down that arm, coming to the elbow, his fingers lightly dancing there, almost as if there were not gloves and cloaks between them. As if there were nothing between them. "The way I remember it, together we were the most natural thing in the world."
Suddenly, she was shaking again. He prayed it wasn't from the cold.
"Letty," he whispered, letting his warm breath fall against her cheek. She was close enough to taste. "I can't undo what I did. Nor would I want to. Because you would have never looked twice at me if I was plain Mr. Turner."
"We'll never know the answer to that, will we?" Her voice made his heart crack.
"We are meant for each other."
The last time they had stood this close together—in public—he had used it to stake his claim. To declare to the world that the Countess of Churzy was his. Now he would renew that claim, the only way he knew how.
"Come with me. Put this foolish running to an end. Where can you go that you think I will not follow?"
"I did not run to be chased, you idiot. I run because it is the only choice I have left!" She pulled away from him, but his hand was still on her elbow and he caught her, pulled her back. Her body slammed into his.
"Not the only choice," he said, and his mouth crushed against hers.
As cold as it was outside, as cool and reserved as she pretended to be, the warmth of her lips shocked him. Heat volleyed between them with every breath, every shiver. His hand snaked around her back, folding her against him. She gasped for air and burrowed closer. The small moan that escaped from the back of her throat sent a thrill down his spine.
And he knew he had her.
All he had to do now was get her to agree.
"Tell me to go and I will." He pressed his forehead against hers. "Tell me now and I'll go away forever, you'll never see me again. We'll be nothing more than a bittersweet memory to each other."
Kate Noble©2015
Series:
Winner Takes All #2
Genre:
Historical
Page Count:
384 pages
Publisher:
Pocket Books (December 29, 2015)
He once posed as a lord and fell for a lady.
John Turner was thinking only of winning a bet when he swapped identities with his friend, the Earl of Ashby. He didn't wager on winning the fiery Countess of Churzy's heart with his lies, or on falling for her in return.
Leticia, impoverished Countess of Churzy, was publicly humiliated when it came out that she had fallen for the man, not the master. She fled when she learned of his betrayal. But fate throws them together again, and some things are too intoxicating to be denied.
John is determined to regain her trust—and her love—this time as himself. Letty knows what choice she must make to survive, but if she turns her back on her dashing rogue – again – will she loose her chance at love forever?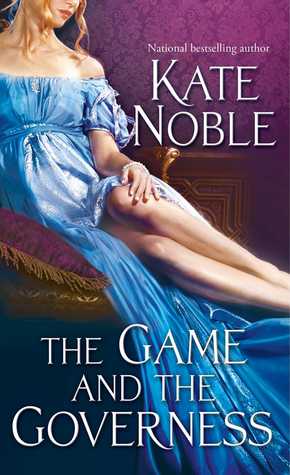 Kate's publisher is giving away a copy of THE GAME AND THE GOVERNESS, book one of the Winner Takes All series. Open to US readers.
a Rafflecopter giveaway
Rules and Stuff:
No purchase necessary.
Giveaway is open to readers 18 years or older in the US.
Odds of winning depend on the number of entries.
Giveaway runs 1/4/2016 01/11/2016(11:59PM EST)
Winner will be contacted via email and have 48 hours to respond or a new winner will be chosen.
Information provided by winners will be deleted upon completion and gifting of prize.
Romancing Rakes For The Love of Romance and Pocket Books are not responsible for lost, stolen or damaged items due to USPS handling or winner providing INVALID mailing address.
By entering this giveaway you are agreeing to the terms stated above. No substitutions or replacements due to nature of giveaway. Facebook and Twitter do not sponsor, endorse, promote or administer this giveaway. Romancing Rakes For the Love of Romance and Pocket Books are the sponsors of this giveaway.