It's always fun to see Shana Galen's posts on Facebook because there's book goodness or Princess Galen shenanigans. Super cute! Today she's sharing her holiday favorites including family time, pumpkin goodness and holiday lights.
Shana Galen is the bestselling author of fast-paced adventurous Regency historicals, including the RT Reviewers' Choice
The Making of a Gentleman
. Booklist says, "Galen expertly entwines espionage-flavored intrigue with sizzling passion," and RT Bookreviews calls her "a grand mistress of the action/adventure subgenre." She taught English at the middle and high school level off and on for eleven years. Most of those years were spent working in Houston's inner city. Now she writes full time. She's happily married and has a daughter who is most definitely a romance heroine in the making.
1.
Everything pumpkin!
I haven't met a pumpkin bread, coffee, candy, or soup I didn't like. Okay, I did draw the line at pumpkin soda, but it's not a firm line…
2.
Cooler temperatures.
In Houston, our seasons are summer and fall. In November and December, we look forward to a few scattered days of lower humidity and cooler temperatures.
3.
Time with family.
I have the cutest and sweetest baby nephew. I don't get to see him enough, and I'm looking forward to several days playing with him.
4.
My birthday!
Maybe I don't look forward to turning another year older, but since my birthday and Christmas are on the same day, this is a big time of celebration (and presents) for me.
5.
Holiday lights.
I love driving or walking around the neighborhoods and admiring all the holiday lights. Christmas is such a magical time.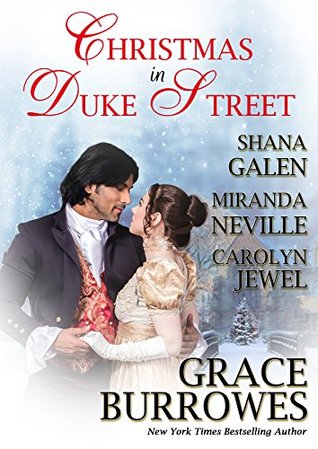 Genre:
Historical
Page Count:
305 pages
Publisher:
cJewel Books (October 10, 2015)
Christmas in London is a busy time at the little bookshop in Duke Street, for love, literature, and shopping. Four couples come and go and discover that happy ever after makes the perfect Christmas gift. A new anthology from the bestselling authors of Christmas in the Duke's Arms and Dancing in the Duke's Arms.
The Rake Who Loved Christmas by Miranda Neville
Sir Devlyn Stratton wants to save his brother from an unprincipled adventuress, especially when he meets Oriel Sinclair and wants her for himself. Oriel won't marry for convenience or become a rake's mistress. But succumbing to Dev's seduction is all too tempting.
A Seduction in Winter by Carolyn Jewel
He's an artist and a duke's heir. She's sheltered and scarred. Can he show her by Christmas that love can be theirs to share?
A Prince in her Stocking by Shana Galen
Lady Cassandra has always done as she's been told. Meek and malleable, she's lived a life devoid of passion. When she meets a handsome man rumored to be an exiled prince, she sees one last chance at excitement. Little does she know, too much excitement can be dangerous.
The Appeal of Christmas by Grace Burrowes
The best Christmas present is the one he didn't realize he desperately needed.
a Rafflecopter giveaway
Click to enter the GRAND PRIZE Giveaway!