We couldn't think of anyone more fun to celebrate our Joyathon with than Monica Murphy who shares our love for all things Christmas. Today she's sharing her favorites including cookies, Christmas music and lights, and how gift bags are the greatest invention ever when it comes to wrapping gifts.
New York Times, USA Today and international bestselling author Monica Murphy is a native Californian who lives in the foothills below Yosemite with her husband and three children. She's a workaholic who loves her job. When she's not busy writing, she also loves to read and travel with her family. She writes new adult and contemporary romance and is published with Bantam and Avon. She also writes romance as USA Today bestselling author Karen Erickson.
1.
The lights!
I love Christmas lights. We drive around every year to a few choice spots to check out the lights on display. We live near Fresno, which has
Christmas Tree Lane
and one of the houses won that Christmas lights show/contest on ABC last year....so we live close to some choice holiday lights. ;)
2.
Cookie decorating.
When I was young, my grandma made sugar cookies in holiday shapes and we decorated them with icing. I do the same with my children, plus we add various sprinkles. The cookies end up pretty colorful and fun. It's a tradition that my children - and I - look forward to every year and I hope they carry it on with their future children.
3.
Giving someone a gift they've been wanting is such a great thing.
I've always loved that. When I was younger it was all about counting up the gifts I received but now...it's all about giving. I like to see my children's smiles and excitement when they open a present. I like finding them the right gifts that I know they'll go crazy over. What I do NOT like is wrapping all of those presents. What a chore! Fortunately, my husband is an excellent gift wrapper. If we had it my way, everyone would get their presents in gift bags (I love gift bags)...
4. My
mom's birthday
is December 23rd so when I was a kid, that was the kickoff to the celebration. We'd have Mom's birthday dinner on the 23rd, the family gift exchange on the 24th at my great-grandma's house and then the big Christmas morning unwrapping with the immediate family. I have the best memories of those days!
5.
Christmas music
- I really do love it. Now, when I worked retail jobs in my 20s, I got sick of hearing those songs again and again (and again). But now? I love it! Last year my son's fifth grade class sang TEN Christmas songs and put on a show at the school. I adored it - especially because I knew it was his last. Once they move on to middle school age, no more holiday themed programs. He's my baby too - my 11 year old baby who won't stop growing. And speaking of that, they don't believe in Santa anymore either. Double boo....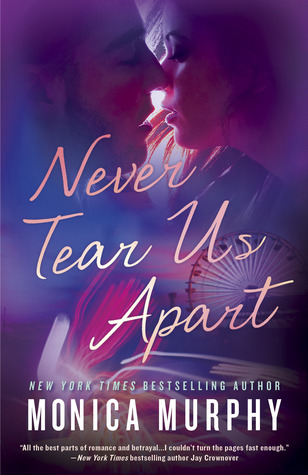 Series:
Never Tear Us Apart #1
Genre:
Contemporary
Page Count:
416 pages
Publisher/Release Date:
Bantam (January 5, 2016)
Perfect for readers of Colleen Hoover, Jay Crownover, and K. A. Tucker, the first novel in this darkly sexy contemporary series from bestselling author Monica Murphy kicks off an emotionally powerful two-part tale of forbidden love.
Crazy how eight years can disappear in an instant. One look at Katie Watts, and I'm a fifteen-year-old again—the one who risked everything to save a terrified girl from her twisted kidnapper. She's grown-up now—beautiful, quiet, composed—and telling her story to the world. A story that involves me in more ways than you can imagine. She used to call me her guardian angel. Sure, I risked my life, but she was worth dying for.
I need to make contact with her. Just to ensure that she's safe.
Somehow we reconnect. We become friends . . . but I want more. I want to make her mine. And she wants me too. Does she know who I am? Has she figured me out? Not yet. But she will. In the meantime, I need to make sure that whatever hold that animal had on her is gone.
So, yeah, I'm stealing these moments with her. Savoring them. Knowing, dreading, that she'll soon find out who I really am. And everything will fall apart. All because of that twisted, perverted monster sitting on death row. Her kidnapper. A convicted serial killer.
My father.
a Rafflecopter giveaway
Click to enter the GRAND PRIZE Giveaway!