Wow! So many responses and great chats with our featured authors so far. What do cross-country skiing, mince pies and Christmas parties in January have to do with our next guest? Miranda Neville shares some of her holiday favorites today.
Miranda Neville grew up in England, loving the books of Georgette Heyer and other Regency romances. She now lives in Vermont with her daughter and an immensely talented cat who made a book trailer for her novel The Importance of Being Wicked. Her historical romances published by Avon include the popular Burgundy Club series, about Regency book collectors, and currently The Wild Quartet.
1.
Decorating the Christmas trees.
Christmas ornaments are what I collect. I buy them as souvenirs when I travel because they are relatively inexpensive and don't take up too much room in the suitcase. For eleven months of the year they are safely put away. The weekend after Thanksgiving, my daughter and I buy our trees, test the strings of lights, and admire the year's new acquisitions before we decorate. Last year was the first time we needed three trees to accommodate the collection. I don't think we're up to four yet. Besides, I'm not sure there's room in the house!
2.
Mince pies.
Being a native Brit, I can't do without these little calorie-laden morsels of spicy goodness. I make them myself with all-butter flaky pastry and jars of imported mincemeat - much darker and more intense than the American variety. Traditionally they are served with brandy butter (hard sauce) but I prefer brandy flavored whipped cream.
3.
Cross-country skiing.
The weather doesn't always behave, but when it does there's nothing like a hour or two out on the snow before Christmas dinner.
4.
Christmas music.
Not the canned music in the mall but wonderful Christmas CDs played at home. My old standbys are A Christmas Gift For You from Phil Spector (OK, yes he's a murderer but the amazing artists who worked for his aren't) and Christmas with Placido Domingo.
5.
For a few years now my daughter and I have invited our friends to our Christmas Party in January.
Usually it's the first Saturday of the year, but we like to do it after everyone has a chance to recover from the most intense period of the holidays so this year it won't be until January 9th. Here's hoping it won't snow!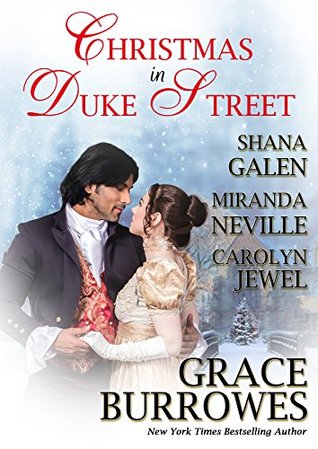 Genre:
Historical
Page Count:
305 pages
Publisher:
cJewel Books (October 10, 2015)
Christmas in London is a busy time at the little bookshop in Duke Street, for love, literature, and shopping. Four couples come and go and discover that happy ever after makes the perfect Christmas gift. A new anthology from the bestselling authors of Christmas in the Duke's Arms and Dancing in the Duke's Arms.
The Rake Who Loved Christmas by Miranda Neville
Sir Devlyn Stratton wants to save his brother from an unprincipled adventuress, especially when he meets Oriel Sinclair and wants her for himself. Oriel won't marry for convenience or become a rake's mistress. But succumbing to Dev's seduction is all too tempting.
A Seduction in Winter by Carolyn Jewel
He's an artist and a duke's heir. She's sheltered and scarred. Can he show her by Christmas that love can be theirs to share?
A Prince in her Stocking by Shana Galen
Lady Cassandra has always done as she's been told. Meek and malleable, she's lived a life devoid of passion. When she meets a handsome man rumored to be an exiled prince, she sees one last chance at excitement. Little does she know, too much excitement can be dangerous.
The Appeal of Christmas by Grace Burrowes
The best Christmas present is the one he didn't realize he desperately needed.
a Rafflecopter giveaway
Click to enter the GRAND PRIZE Giveaway!