We're getting a visit from halfway around the world. Today, Kat Latham shares her favorite things about this time of year like cookie exchange parties (YUM!), British Christmas dinner (get ready break out the yoga pants), and Christmas crafts.
Kat Latham is a California girl who moved to Europe the day after graduating from UCLA, ditching her tank tops for raincoats. She taught English in Prague and worked as an editor in London before she and her British husband moved to the Netherlands. Kat's other career involves writing and editing for charities, and she's traveled to Kenya, Ethiopia and India to meet heroic people helping their communities survive disasters.
Christmastime is my favorite time of the year, and narrowing down the reasons to only five is nearly impossible. This year, my daughter will be nearly three, so she's finally at an age where she can get excited about Santa, and I can do fun activities to make the season magical for her. I'll also be eight months pregnant this Christmas, so staying home to do crafty stuff, bake and hibernate sounds ideal.

Here's my list of my five favorite things about the season!
•
Cookie exchange parties
Whenever I'm home in San Diego for Christmas, my mom and I organize a party for the women and girls in my family. They all bring a recipe, and we bake together. By the end of the day, we fill up our Christmas cookie tins with dozens of kinds of cookies. Delicious and fun!
•
British Christmas dinner
My husband is British, and I love spending Christmas at his parents' house in rural England. His mum's an amazing cook, and Christmas dinner in Norfolk feels a little more traditional than in San Diego. Mince pies, Christmas pudding, rum butter... I eat till I need to put on yoga pants (nothing beats an elastic waistband at Christmas).
•
Christmas stories
Whether it's romance novels, movies (my favorite is A Muppet Christmas Carol) or British pantomimes, I'm a sucker for the stories we only seem to tell at Christmas.
•
Steam trains
This is a new passion of mine, but when I was researching
Three Nights Before Christmas
, I started to realize how cool vintage steam trains are. As I wrote the book, I pictured the Polar Express, and I was lucky enough to go on a restored steam train through the Brecon Beacons National Park in Wales this October. During the holidays, you can take the train to visit Santa, and I really wish I could go because that's what happens in my book, too!
•
Christmas crafts
I love getting crafty, and Christmas is the one time of year I make time for myself to work on projects. This year I'm scouring Pinterest for decorations I can make with my toddler. And, since my maternity leave starts on Dec 23, I'll be spending the holidays making a quilt for my soon-to-be-born daughter. I can't wait!
What are your favorite holiday things? Do you have toddler crafting recommendations? A favorite Christmas cookie recipe? A family tradition? A favorite Christmas romance novel? I'd love to hear about it!
One person will win my latest Christmas romance (Three Nights Before Christmas)! Also, if you haven't read my book
Unwrapping Her Perfect Match
yet, it's
FREE till Christmas day
!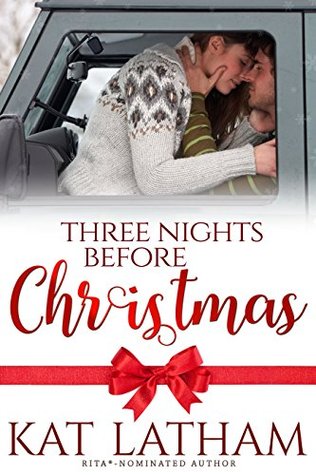 Genre:
Contemporary
Page Count:
183 pages
Publisher/Release Date:
Tule Publishing (October 25, 2015)
Have yourself a steamy little Christmas…
After three years in prison, freight train engineer Lacey Gallagher doesn't expect this Christmas to be very merry and bright. At least chopping down trees for her brother's Christmas tree farm will help her save money to get her life back on track. All her plans derail, though, when her new job puts her in territory patrolled by the man who haunts her dreams—the forest ranger who sent her to prison.
Austin Wilder isn't thrilled about Lacey working in his forest—but he soon realizes he needs her help. His family is depending on him to restore an old steam train for a spectacular Christmas event, and train expert Lacey is his only hope of finishing in time.
Working together challenges every assumption Lacey and Austin have about each other, and they discover a desire hot enough to melt even the deepest Montana snow. But will the season of second chances be enough to mend the most hardened broken heart?
a Rafflecopter giveaway
Click to enter the GRAND PRIZE Giveaway!