We hope you all are enjoying our Joyathon guest authors, favorite things, and giveaways! Today, we're celebrating a melting pot of holidays with Beth Yarnall as she shares her favorite things about this holiday season.
Best selling author, Beth Yarnall writes romantic suspense, mysteries and the occasional hilarious tweet. For a number of years, Beth made her living as a hairstylist and makeup artist and co-owned a salon. Somehow hairstylists and salons always seem to find their way into her stories. Beth lives in Southern California with her husband, two sons, and their dog where she is hard at work on her next novel.
Beth is the found of
Lady Jane's Salon OC
.
I enjoy all of the different celebrations at this time of year. You can wish me Happy Hanukah, Happy Kwanzaa, Happy Holidays or whatever you wish. I gladly embrace all well wishes and appreciate the spirit in which it they're offered.
My family happens to celebrate Christmas although I do have family members who celebrate other holidays as well. Family is very important to me and the holidays give me an excuse to see them a lot. My children have decorated cookies with my parents since they could press a cookie cutter into the dough and eat more frosting than ends up on the cookies. We usually take a trip either at Thanksgiving or over the winter break to Prescott, Arizona with my husband's family where there are many must do's like the town's holiday parade and shopping in the town square.
I try to avoid Black Friday, but I love Cyber Monday. I love all of the food traditions my family has like seafood bisque on Christmas Eve and croissants and cheese for Christmas morning breakfast. I love the sights and sounds of the holidays, especially the music. And I love choosing just the right gifts for the ones I love.
I wish you and your loved ones much joy and peace this holiday season.
Have you found the perfect gift? Who is it for?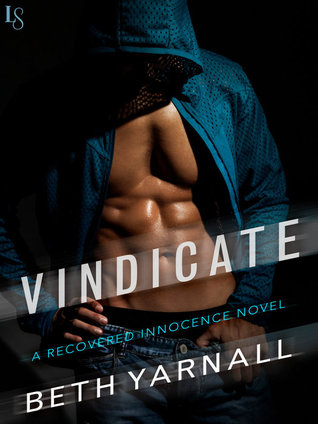 Series:
Recovered Innocence #1
Genre:
Historical
Page Count:
310 pages
Publisher:
Lila DiPasqua; Second Edition (Oct. 2015); 2 edition (October 26, 2015)
Beth Yarnall kicks off a steamy new series—perfect for fans of Kendra Elliot and Emma Chase—featuring a San Diego investigative team with a soft spot for lost causes and a passion for redemption.
Cora
. . . . I got my driver's license on my sixteenth birthday so I could visit my brother in prison. Five and a half years later, he's still locked up for a murder he didn't commit and I'm still trying to find a way to set him free. Then I hear about Nash Security and Investigation, a private detective agency that helped exonerate a wrongfully convicted man after thirty-nine years in prison. The problem? They've already taken on the one pro-bono case they'll accept this year.
Leo
. . . . I'm this close to finishing law school—and never working another day at my dad's P.I. office—when Cora Hollis walks through the door. She's got a box of files, a handful of leads, and an independent streak a mile wide. She fascinates me and I can't say no. Suddenly I'm volunteering to help her find a missing witness who could be the key to her brother's case. But nothing is what it seems and giving in to the attraction between us could be more dangerous than finding the real murderer.
a Rafflecopter giveaway
Click to enter the GRAND PRIZE Giveaway!