A long-time romance reader,
Lauren Layne
thinks the only thing better than reading about happy endings is writing them. She now pursues a full-time career in Happily Ever After, a job she's naturally suited for after marrying her high school sweetheart. A bit of a nomad, Lauren's lived everywhere from Orange County to Manhattan, and currently lives in the Seattle-area. Her hobbies include coffee by day, wine by night, and lots of writing in between.
Do you have any favorite book boyfriends of your own?
I have a ridiculous crush on Clark from Alice Clayton's Screwdrivered. Or are you asking of my own books? In which case I'd have to say Vincent Moretti and Mitchell Forbes J
What are five books on your night stand/bookshelf?
Other than a handful of cookbooks, I actually don't have any books in the house. I'm Kindle all the way J But currently on my reading/TBR list are Jessica Lemmon's "Bad Boy for Christmas," Lisa Kleypas's "Cold-Hearted Rake," Kate Meader's "Playing With Fire," a biography on John D Rockefeller, and Mindy Kaling's latest memoir.
What's your favorite quote or scene from your book?
Favorite scene from Steal Me, is when Maggie and Anthony are bickering outside in the rain, and the sexual tension is some of the best I've ever written, if I do say so myself!
If your couple's relationship had a theme song, what would it be?
I listened to Before It Breaks by Brandi Carlisle on repeat while writing this one! I couldn't even tell you what the song's about, and don't ask me about the lyrics, but the tone/mood of the song felt just right.
Tell us about the cover process. Is this what you had in mind?
Covers are mostly up to the publisher. We authors can submit general direction, and we do get to throw in our two cents on whatever they come up with. New York's Finest is the first and only series of mine that had a cover-shoot (as opposed to using stock photos), and my favorite part was getting the behind-the-scene pics of the hot guys! I'll confess the covers are a bit different than my usual brand. They're grittier and a bit more intense. But I'm confident readers will still find trademark Lauren Layne banter inside :)
If your book was being made into a movie, who would you include in your dream cast?
I always pictured Jennifer Garner as Maggie, and Sasha Roiz as Anthony, which is probably going to get me into all sorts of trouble since the actor's not Italian, nor does he even look Italian. But ever since I saw him play Police Captain Renard on the TV show Grimm, I knew I wanted to base a character on his gruff, alpha persona. (hence, why Anthony Moretti's rank is a … Captain! A subtle homage to the inspiration)
Where do you find inspiration for you writing? Do you use real people/places as a foundation?
Actors and movie/tv characters certainly play a part sometimes, but never people from my "real life." That just gets too weird. As far as places, most of my books are set in NYC, and the city is really a character all of its own. Even the streets seem to have a personality that make their way into my books! That said, I don't think that's something I ever would have taken on if I hadn't lived there when I first started my writing career. New York is one of those places that is really easy to get wrong.
Do you have any hobbies or activities that you enjoy outside of writing?
Does happy hour count? J Mostly I'm a home-body. I truly love my job, so writing is my favorite way to spend my time. When I need a break, I'm often grabbing a drink with my husband, playing with my spoiled dog, or out for a run when I feel like I've spent way too much time sitting.
Would the 10 year-old version of yourself kick your butt or praise you for what you've accomplished in life?
Oh man … my 10-year old self was pretty meek. If anything I wish I could go back and kick HER butt, tell her to be a bit more confident in who she was, tell her that being bookish is COOL, being tall is AWESOME, and that her life is going to be JUST FINE even though she can't play a single sport for the life of her. But to answer the question … I think she'd be proud, but not surprised. Back then, 10 year old Lauren was pretty sure she was going to be an author. It was early adulthood Lauren that lost the vision!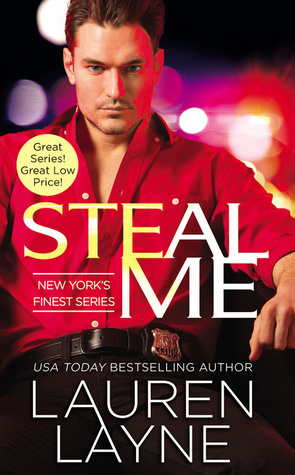 Series:
New York's Finest #2
Genre:
Contemporary
Page Count:
352 pages
Publisher:
Forever (November 24, 2015)
Being a cop might be in Anthony Moretti's blood, but protecting and serving the city of New York has always been more than just the family business. If that means his love life stays locked up, well then that's just another sacrifice made in the line of duty. That is, until he sets eyes on the gorgeous new waitress at The Darby Diner and suddenly Anthony's morning coffee is leaving him a whole lot more hot and bothered than usual.
Though waitressing at The Darby isn't exactly Maggie Walker's dream job, it pays the bills and gives her time to work on her novel. Now if only she could stop fantasizing about gorgeous Anthony Moretti every time he sits down at her table, she'd really be in great shape. But when he needs her help identifying a criminal threatening The Darby-and Maggie recognizes her ex-husband-she fears her fresh start might be a pipe dream. Faster than a New York minute, Maggie and Anthony find themselves in one perilous pursuit that only gets hotter with each and every rule-breaking kiss.
a Rafflecopter giveaway