USA Today bestselling author VIVIENNE LORRET loves romance novels, her pink laptop, her husband, and her two sons (not necessarily in that order ... but there are days). Transforming copious amounts of tea into words, she is proud to be an Avon Impulse author of works including: "
Tempting Mr. Weatherstone
",
The Wallflower Wedding Series
, and the
Rakes of Fallow Hall series
.
Connect with Vivienne:
Website
|
Facebook
|
Twitter
|
Goodreads
Gabriel Ludlow, Viscount Everhart, collapsed against the cushions of the sofa and gritted his teeth. The splint around his lower leg was a damnable nuisance. A month had passed since he'd broken the bone above his ankle, and he wasn't certain which bothered him more—the steady ache from the injury or the constant pinching from the cure.
Damn,
he needed another drink.
Reaching forward to massage his leg between the slats of wood, Gabriel answered the challenge his friend had issued a moment ago. "Forget it, Montwood. Only a fool would wager against you. You have a peculiar way of winning when it suits you."
"Aye." Rafe Danvers nodded, the firelight glancing off his dark, angular features. Lifting a finger away from the glass in his hand, he pointed to the man in question. "I've seen you at the tables too many times to gamble with you, as well."
Renowned for his charm, Lucan Montwood ignored their comments and tossed the cork from another bottle into the fire. Lying on the floor in front of the hearth, the lanky gray dog that had made his home here in recent weeks didn't even flinch. Arching black brows over amber eyes, Montwood considered the label of a rather costly scotch. A slow, appreciative grin followed.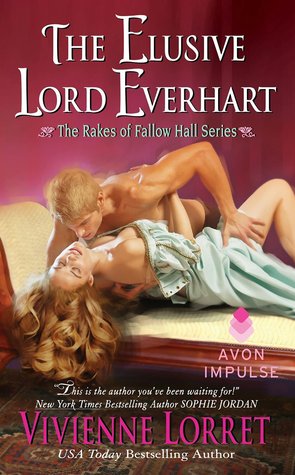 Series:
The Rakes of Fallow Hall #1
Genre:
Historical
Page Count:
336 pages
Publisher:
Avon Impulse (March 24, 2015)
Gabriel Ludlow, Viscount Everhart will never marry, and thus is sure to win the bachelor's wager against his friends. Assuming, of course, that his deepest secret—a certain letter containing a marriage proposal made in a moment of passion—doesn't surface. After all, without Calliope Croft to tempt him, there's no danger in losing. Or in falling in love.


Calliope wants revenge. Five years ago, an anonymous love letter stole her heart and ultimately broke it. Now, Casanova has struck again, and Calliope vows to unmask the scoundrel, stopping him from breaking any more hearts. Yet, time and again, Gabriel distracts her from her task, until she can no longer deny that something about him calls to her...


Gabriel was a fool to deny the depth of his feelings for Calliope, but the threat that kept him from her five years ago remains. Now, he must choose between two paths: break her heart all over again or finally succumb to loving her...at the risk of losing everything.
Preorder A Copy:
Amazon
|
B&N
|
iBooks
|
Kobo
|
BAM
|
Book Depository
Other Books in Series:
Avon is hosting a TOUR WIDE Rafflecopter Giveaway of a Digital bundle including: Winning Miss Wakefield, Daring Miss Danvers, and Finding Miss MacFarland. Follow the tour
HERE
.
a Rafflecopter giveaway