Happy Valentine's Day lovelies! Whether you're single, in a committed relationship or it's complicated, we've got some romantic reads to keep you company or get your in the mood ;)
Please Note:
Prices may change without notice.
Without further ado...
(
Bedding The Wrong Brother, Book #1
)
Determined to find her inner sex diva, Melina Parker enlists her childhood friend, Max Dalton, to tutor her after hours. Instead, she ends up in the wrong bed and gets a lesson in passion from Max's twin brother, Rhys Dalton, a man Melina's always secretly wanted but never thought she could have.
(
Bedding The Bad Boy, Book #2
)
This bad boy is ready to work some magic...
Identical twin and Las Vegas performer Max Dalton has always been the number one bad boy in his family, and he's appreciated the women and fame that comes along with his reputation.
Grace Sinclair is on a mission when she comes to Vegas, one that involves asking Max, her best friend's brother-in-law, to give her the pleasure no man's ever been able to. She suspects Max has more layers than he lets people see, but she's determined to keep her heart safe even as she offers him her body.
What neither of them plan on is love--or the triangle the media stirs up with Max's blonde bombshell actress friend.
Will Grace see beyond Max's bad boy façade long enough to trust him with her heart? And will Max figure out what he really wants before he loses the one woman who makes him believe in love again?
(
Bedding The Billionaire, Book #3
)
Free-spirited Lucy Conrad enjoys her friends but keeps others at a distance, especially her affluent and judgmental family...and the billionaire she once dated, Jamie Whitcomb. Despite their explosive chemistry, experience has proven she'll never fit into his world.
Charismatic Jamie enjoys work, women, and wealth. When duty demands he take over running the family business, he jumps in full-throttle; his only regret is Lucy's refusal to take the ride with him.
Then tragedy strikes and Lucy realizes that in order to gain custody of her orphaned niece, she must prove she can fit back into the high-society world she once rejected. The solution? Accept Jamie's make-believe marriage proposal, and be seen as the type of mother her niece deserves. Respectable. Controlled. Willing to play the game.
With her faux-fiancé by her side, Lucy exchanges dirty martinis and leather for champagne and silk. But when the passion between Lucy and Jamie only grows greater, they have to make a choice: back away from each other and not get hurt...or risk everything for the kind of love money can't buy. (
Amazon $0.99
)
It's been years since Abby O'Brien Winters set foot in Chesapeake Shores. The Maryland town her father built has too many sad memories and Abby too few spare moments, thanks to her demanding Wall Street career, the crumbling of her marriage and energetic twin daughters. Then one panicked phone call from her youngest sister brings her racing back home to protect Jess's dream of renovating the charming Inn at Eagle Point.
But saving the inn from foreclosure means dealing not only with her own fractured family, but also with Trace Riley, the man Abby left ten years ago. Trace can be a roadblock to her plans...or proof that second chances happen in the most unexpected ways. (
Amazon $0.99
)
The black sheep of Fallbrook is back . . . and he's in for the surprise of his life.
Former bad boy, now-decorated Army Ranger Brody McBride is home and on a mission: Find the woman he never should have left behind and right the wrong he did eight years ago.
When the man she loved broke her heart and skipped town, Rain Evans picked up the pieces. But along with heartbreak, Brody left her something infinitely better than she could have imagined: two beautiful daughters. One she gave birth to, and the other she rescued from the woman who helped destroy her relationship with Brody.
Brody is shocked to discover he's a father, and he's more determined than ever to win back Rain and protect his girls. Can they rekindle the love they once shared and become the family they were always meant to be? Or will a danger from their past return and ruin everything? (
Amazon $0.99
)
In
Beautiful Stranger
, finance whiz Sara Dillon met the irresistibly sexy Brit, Max Stella, at a New York City club. Through the series we've watched them learn to balance commitment with their less than private brand of playfulness. In Beautiful Beloved, Max and Sara take it to the next step. But the question is: Will they be able to find a balance between the wild sexcapades they aren't ready to retire, and the demands of parenthood that come along with their new Beautiful bundle of joy? Parenthood: it's not for the weak of heart. (
Amazon $0.99
)
New York Times and USA Today Bestselling Author Cheryl Bolen and USA Today Bestselling Author Bronwen Evans are joined by Barbara Monajem, Collette Cameron, Wendy Vella, Heather Boyd, and Lauren Smith in this exciting collection of regency romances. Be CAPTIVATED BY HIS KISS in these seven emotional stories of second chances, scandalous wagers, and the quest for true love. Lose yourself again and again in beautifully written romance. (
Amazon $0.99
)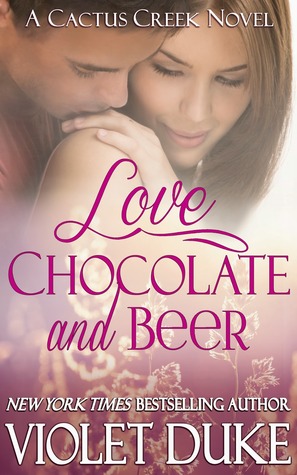 Romance has met its most unlikely match-up…
Luke Bradford is a chocolatier on a mission. After moving his chocolate shop, and newly single life, to the quirky town of Cactus Creek, Luke wants nothing more than to devote all his energy into making his business a success—by taking the romance market by storm. But his grand plans get thrown for a loop when he locks horns with the feisty beer-brewing beauty next door who calls his 'romantic idealism' a load of fairytale bull. Soon, driving the woman sparking nuts becomes another wickedly fun priority he simply can't get enough of.
In his defense, she's addictively easy to incite…and plain impossible to resist.
Beloved local brewmaster Dani Dobson is beyond riled up. It's bad enough the new shop owner in town comes locked and loaded with both a distractingly rugged charm and sexy flashing dimples, but the whole only-in-the-movies variety of romance he's selling—the kind her world has been crushed by before—is really doing a number on her allergy to unrealistic clichés. What's worse, he's created an annoyingly clever ad campaign that dubs 'beer joints' like hers as the "cave where romance goes to hibernate." The nerve of that man.
Combustible chemistry or not, damn it, this means war. The stakes…very likely, her heart. (
Amazon FREE
)
We hope you found something that caught your eye.