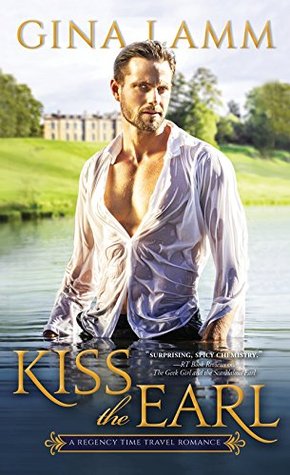 KISS THE EARL by Gina Lamm
Series:
Geek Girls #3
Genre:
Time Travel Romance
Length:
384 pages
Publisher:
Sourcebooks Casablanca (April 7, 2015)
Format:
ebook via Netgalley
On the eve of her first comic book release, Ella Briley has a problem: no date to the launch party. Things go from bad to worse when she stumbles into the past . . . and straight into the arms of her very own Mr. Darcy.
Patrick St. John, Earl of Meadowfair, is too noble for his own good. To save his friend from what is sure to be a loveless marriage, he's agreed to whisk the girl off to wed the man she truly loves. But all goes awry when Patrick mistakes Ella for the would-be bride . . . and finds this modern girl far too tempting for even the noblest of men to resist.
Preorder A Copy:
Amazon
|
B&N
|
iBooks
|
BAM
|
Book Depository
Other Books in Series:
REVIEW:
Kiss the Earl
is a time travel Regency romance that follows Ella Briley, modern day comic book artist as she is shoved back in time and into the arms of Patrick Meadowfair, Earl of Fairhaven and gentleman of the ton. It is filled with humor and passion, as well as a healthy dose of charming secondary characters.
I really, really, enjoyed Ella. She is funny, self-deprecating, tough when she has to be, and practical as well. I'd like to think that if I were put in similar circumstances, I'd behave the same way. Patrick was believable as a gentleman of the ton inasmuch as he had a defined moral code and tries desperately to stick to it. He also has a good amount of the sexism that dominated his era, which leads to communication problems between the two of them.
While I think the two fall in love a little quickly for what the circumstances allow, I loved that they were realistic about how their very disparate lives mean they really can't be together. Patrick believes Ella's time travel story due to his own magical past (a loose end that never gets tied up), and Ella knows that staying in a world where there are no antibiotics or flushing toilets is going to be more of a sacrifice than she is realistically able to make.
There are a couple of things that bugged me in the story, the biggest being Patrick's friend Amelia. Based on her behavior I couldn't understand why Patrick cared for her nor why he was willing to risk his life for her. Aside from her, the secondary characters are largely charming, including Patrick's cousin Iain, who I'd love to get his own story.
This book was charming, delightful, and sweet. I had a hard time putting it down and found myself cheering for Ella and Patrick to find their happily ever after.
Favorite quote:
Making a fist, Ella frowned. She was tired of things happening to her. She'd always been quiet, shy, awkward, a tomboy, a comic-and-costume-loving geek. She wanted to make something happen, and damn it, she was strong enough now to do just that.