Marina Adair is a lifelong fan of romance novels. Along with the
Sugar series
, she is also the author of the
St. Helena Vineyard series
. She currently lives in a hundred-year-old log cabin, nestled in the majestic redwoods of the Santa Cruz Mountains, with her husband and daughter.
As a writer, Marina is devoted to giving her readers contemporary romance where the towns are small, the personalities large, and the romance explosive. She also loves to interact with readers and you can catch her on Twitter at
@MarinaEAdair
or visit her at
www.MarinaAdair.com
.
Other places to connect with Marina:
Facebook
|
Goodreads
Three days later, Josephina shoved the last scrap of wallpaper into the trash bag and knew it was quitting time. Her arms were sore from scraping off glue, which was littering the wood floor, she had a big bruise on her forehead from running into Brett's elbow—and sharing breakfast, lunch, and dinner with a man who made her motor hum only added to her aches.
True to his word, he had asked her out every day. And every day it became harder to say no.
Today had been the worst, she thought as she watched the play of Brett's muscles while he supported a plank of rotted wood over his head. He was all rippled and gorgeous and flashing that orgasm-inducing smile. The one that curled up slightly at the corners, saying he'd caught her drooling. Again.
"A simple yes is all it would take," he said in that southern-boy way that made her heart warm. Along with some other, more pertinent, parts.
"I have no idea what you're talking about." She stepped sideways, right into a bowl of nails, knocking them over. Then, blaming Brett for taking up too much damn space, she picked up the handsaw off the floor and reached into her back pocket for a pair of gloves—coming up empty.
"I've got an extra pair in my tool belt," he said with humor in his voice as he jerked his chin toward his goodie bag, um, tool belt. "Right there in the center pocket. You see them?"
Oh, she saw them all right. She also saw how incredibly amused he was.
"Don't move." Eyeing him, she cautiously reached into the pocket, careful not to touch any of
his
tools. She grabbed the leather gloves and jerked her hand back.
Doing her best to ignore his laughing, she crawled up to the fifth rung of the ladder and sawed away the remaining few inches of beam. Between the sexy smiles and "accidental" brushing of bodies, Brett kept her in a constant state of unbalance.
"So to clarify, you're saying you don't want to go out with me," he mused.
She sighed, sawing through the end of the beam and wondering why she kept repeating herself. "Dating wouldn't be a good idea."
"Why is that?" he asked, lowering the beam to the floor.
This time she was certain he was flexing his arms on purpose.
"Because we'd go out, have a good time, come home, and have sex. Only instead of just amazing no-strings sex it would be complicated by all this other stuff, which would make things weird. Eventually I'd be short one contractor, miss my opening date, and wonder what happened."
Not wanting to look at him, she set the saw on the top of the ladder, ready to move to the next spot.
"First off, I'm in this for the long haul, I gave you my word on that."
Josephina turned around to ask him if he was talking about the inn, but then she forgot how to speak. Brett blocked her descent, climbing up behind her to the second rung, which brought him eye level. He gripped her hips and backed her up against the ladder. "And, sugar, sex between us wouldn't be amazing, it would be earth-shattering."
That's what I'm afraid of.
He sculpted his hands down her sides to her thighs, paying extra attention to her bottom on the trip back. She rested her hands on those biceps she'd been watching all week so she wouldn't fall over as the air whooshed out of her lungs.
Hell, she'd suffered from severe oxygen deprivation since the minute she found him this morning, standing on the front porch, latte in one hand, a cheese Danish in the other, and the sun cresting behind him.
The man redefined "sexy contractor." The faded college T-shirt clung to his impressive chest. And the hotter it got, the clingier the material became. Which was why four o'clock was Josephina's new favorite time of day. It was when Brett shucked his shirt. And the tool belt he wore weighed down his jeans, giving her a prime view of chiseled abs and lean hips, and highlighting his yummy parts.
And that wasn't even the most tempting part. Nope. The more she saw Brett as a normal hot guy, the more the never-going-to-date-him rule seemed to blur, and the harder he became to resist.
"I suck at relationships," she rushed out, more for her than him. "I get so lost in the other person that Josephina goes MIA. I can't do that again. Not now when people are counting on me. When I'm counting on me."
"It's just a date, Joie. I'm not down on one knee." He sounded so sincere her heart pounded as if he were.
"Date implies the start of something, and you're leaving."
And if I let you, you might take my heart with you when you go.
"And I'm staying here, in Sugar."
With a single nod, Brett let her slide past him on the ladder.
He wasn't giving up, not by a long shot, she could see that in his eyes. But he was letting it go—for now.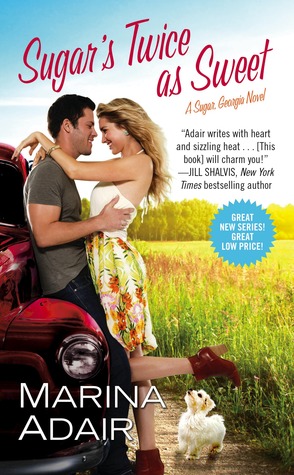 Series:
Sugar, Georgia #1
Genre:
Contemporary
Page Count:
384 pages
Publisher:
Forever (November 25, 2014)
He's trouble she doesn't need . . .
Thanks to a cheating fiancé, Josephina Harrington's perfect life just crashed and burned. Moving in with her overbearing parents is definitely not an option. No, she needs to prove she can make it on her own. And she will-by turning her great-aunt's old plantation house into a destination getaway. She's just not expecting her contractor to be so hands-on-and so totally irresistible.
. . . but everything she wants.
Bad-boy golf champion Brett McGraw figured his hometown of Sugar, Georgia was the perfect place to lay low and get his life back up to par. The leggy blonde with a pint-sized pup is the kind of sweet 'n sassy trouble he never saw coming. She doesn't know a nut from a bolt and before long, he's renovating her house . . . as she steals his heart. Can he convince Josephina that his womanizing ways are in the past and he's ready for forever?
Get A Copy:
Amazon
|
B&N
|
iBooks
|
Kobo
|
BAM
|
Book Depository
Other Books in Series: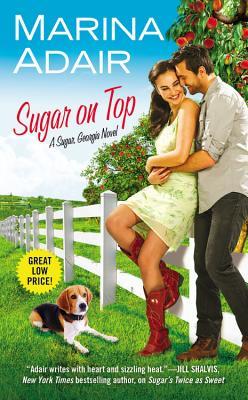 a Rafflecopter giveaway