Meet Grace:
New York Times
and
USA Today
bestselling author Grace Burrowes' bestsellers include
The Heir, The Soldier, Lady Maggie's Secret Scandal, Lady Sophie's Christmas Wish
and
Lady Eve's Indiscretion
. Her Regency romances have received extensive praise, including starred reviews from Publishers Weekly and Booklist. Grace is branching out into short stories and Scotland-set Victorian romance with Sourcebooks. She is a practicing family law attorney and lives in rural Maryland.
Connect with Grace:
Website
|
Facebook
|
Twitter
|
Goodreads
The Best of Heroes, and the Worst of Heroes…
"Eat up," the baroness ordered Milly. "When Sebastian gets back from his morning ride, he'll go through that sideboard like a plague of locusts. If you prefer coffee, you'd best get your servings before he comes down in the morning. The man cannot abide tea in any form."

"The plague of locusts has arrived."

Milly's head snapped around at the mocking baritone. She beheld…her opposite. Whereas she was female, short—petite when the occasion was polite—red-haired, and brown-eyed, the plague before her was male, tall, green-eyed, and sable-haired. The divergence didn't stop there.

This fellow sauntered into the parlor, displaying a casual elegance about his riding attire that suggested time on the Continent. His tailoring was exquisite, but his movement was also so relaxed as to approach languid. The lace at his throat came within a whisker of being excessive, and the emerald winking from its snowy depths stayed barely on the acceptable side of ostentatious, for men seldom wore jewels during daylight hours, and certainly not for so mundane an undertaking as a hack in the park.

This biblical plague had…sartorial éclat.

"Aunt, you will observe the courtesies, please?"

This was the rascal of a nephew then, though as Milly endured his scrutiny, the term rascal struck her as incongruously affectionate for the specimen before her.

"Miss Millicent Danforth, may I make known to you my scamp of a nephew, Sebastian, Baron St. Clair. St. Clair, Miss Danforth—my new companion. You are not to terrorize her before she and I have negotiated terms."

"Of course not. I terrorize your staff only after you've obligated them to a contract."
In the Captive Hearts Trilogy (
The Captive, The Traitor, The Laird
), I had my first experience with painting a character as a villain in one book, and then clothing him in hero's finery in the next. I wasn't sure I could pull it off, though Sebastian St. Clair came through for me with flying colors.
Sebastian's first job was to serve as the nemesis who haunts Christian Severn throughout The Captive. Sebastian was a half-French army officer skilled at inspiring English prisoners to part with sensitive information, though all of his efforts were unavailing with Christian. Revenge for his mistreatment is half of what keeps Christian alive, though as Christian's story progresses, we learn that even he has inconvenient flashes of doubt about taking Sebastian's life.
By the end of
The Captive
, Sebastian's life has been spared as matter of honor between gentlemen, and yet, Sebastian's troubles are just beginning.
To show Sebastian as a victim of circumstances—a French mother, an English father, a poorly timed visit to France—was the first step in having him earn his hero's stripes. Then we learn that Sebastian is the sole support of an elderly aunt who loves him desperately (if acerbically), and then we learn that Sebastian takes the welfare of his aunt's plain, spinstery companion seriously, simply because she's a member of his household.
Sebastian's the protective sort, in other words.
He has humor and humility.
He has regrets, too. Buckets and loads of regrets.
He has a relentless work ethic, and yet he's tired to the bottom of his soul.
Sebastian also has nightmares.
What he does not have are allies who understand why he made the choices he did, and his very isolation helps push him over into hero territory. By the middle of the book, the reader ought to be strongly suspecting that Sebastian was put in a situation where all of his options were bad news, and his very survival a matter of chance. In other words, we start rooting for him.
Milly Danforth certainly roots for him, and from her first scene, we understand that Milly is nobody's fool. If she's keen on Sebastian, maybe he's not so bad?
And somehow, between shedding new light on old circumstances, showing Sebastian as a much more complex and worthy person than he first appears, and giving the reader glimpses of him through the eyes of somebody who never read The Captive (waves at Milly), Sebastian completes the journey from darkness into light.
I learned from Sebastian that the less a character believes himself worthy of a hero's HEA, the more satisfying the moment when he grasps that happiness for himself and the lady who's inspired his journey.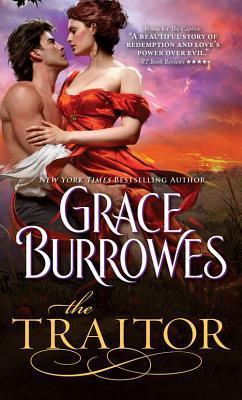 Series:
Captive Hearts #2
Genre:
Historical
Length:
384 pages
Publisher:
Sourcebooks Casablanca (August 5, 2014)
As a young boy, British-born Sebastian St. Clair was abandoned in France and forced to join the French army to survive. Now that the war is over, he has returned to his beloved England and is determined to live a quiet life as a country gentleman. He's struggling to make that wish come true when he falls for his elderly aunt's practical and unpretentious companion, Miss Millicent Danforth. But an old enemy threatens this new love, and plots to destroy everything Sebastian holds dear. Sebastian will have to use all of his wits if he's to hang on to his life, his honor...and Milly's love.
Preorder Copy:
Amazon
|
B&N
|
iBooks
|
Kobo
|
Book Depository
|
BAM
Other Books in Series:
Win 1 of 3 copies of THE TRAITOR. Open to US/CA.
What do YOU think earns a hero his stripes?

Fill out the rafflecopter form below. You must leave a comment. All other entries are optional.
Please make sure you understand our giveaway policy before entering.
Giveaway ends July 10th
ENTER HERE:
a Rafflecopter giveaway