Meet Kris:
Author, psychotherapist, mom and wife Kris Kennedy writes sexy, adventure-filled medieval romances for Pocket Books. DEFIANT (2011) earned a starred review from Publisher's Weekly and THE IRISH WARRIOR (2010) won RWA's 2008 Golden Heart® Award for Best Historical Romance. Excerpts, news, and newsletter sign-up at the website.
Where To Find Kris:
Twitter
|
Facebook
|
Author Site
Kati R: Who is Kris during the holidays? (author, gift giver, last minute shopper, baker)
Kris Kennedy:
Some of that depends on on deadlines. :)
click for an excerpt
Last year I was working on copyedits for DEFIANT, which were CRAZY (see how both the title of my book and my state of mind are in caps?) Copyedits are when someone else goes through the manuscript and finds a bunch of errors and smacks my hand about them, everything from dresses magically changing color within a scene, to fact-checking. They also find the other problems that can occur when an author makes revisions to Big Picture stuff, but misses some of the Little Picture things. There are also editorial notes in there, so some larger scale revisions often occur as well.
This year, I'm hoping DECEPTION's copy edits arrive after Christmas, so I can play with other stories in the stable, so to speak, but not have any dig-deep work to do.
Barring crazy manuscript stuff, at the holidays, I go into holiday-love mode. :) It's not that I decorate with any great aplomb, or shop like crazy, or entertain all that much. I just sorta warp my arms around the house and family and hold them. We get the tree very soon after Thanksgiving—the next day if we're not away somewhere. We decorate so the house is cozy, we bake cookies, we watch Christmas movies and shows, we collect cedar for making garland, and do stuff like string popcorn and cranberries while we watch Christmas shows. I also bake more, for sure!
KR: What is your favorite thing about the holidays?
KK:
See above. :)
KR: Do you write more or less during the holidays?
click for an excerpt
KK:
Depends, but probably less, b/c much of the free time I have is used to prepare, shop, etc. Also, there are more events to go to, so that cuts into evening writing time. But if I'm hot on the story front, I try to stay with a story as much as I can, even if I'm writing love scenes with Christmas carols playing in the background. :)
(mood music: some parum pum pum-ing *giggle*)
KR: If you've written a holiday themed/titled book, what is it about? If you have not, would you write a holiday themed/titled book in the future?
KK:
None. . . yet!
Well, wait, that's not true. The very , very, v-e-e-ery first story I wrote as an adult was a short story about a brother and sister who went out on a cold dark December night and got their family Christmas tree on their own because their parents didn't have it in them. But as that's perhaps the most awful piece of writing in existence, I don't think I'll be sharing that with the world anytime soon.
(awww)
KR: What is the most annoying Christmas song?
KK:
Hmmm, where to start... :) The worst or most annoying probably depends more on the version than the actual song. I tend to earn scowls when I say this, but I do love Christmas songs, and am partial to the old classics. That said, I truly do understand how for some people, every Christmas Song is the most annoying one. :)
KR: Is re-gifting tacky or is there a sneaky way to do it?
click for an excerpt

KK:

Oh, re-gifting is awesome! I mean, I don't think it should be a dirty shirt or anything, :), but I love the idea of sharing the love or, as the case may be, sharing the 'meh.' Your meh may be someone else's yay! Anyhow, re-gifting is a very hobbit-y thing to do, so how can you go wrong?

KR: Real tree or fake tree?

KK:

Real. Real, real. Really real. :)

KR:Specific gifts or gift cards?

KK:

Depends on the person (and how cramped you are for time. LOL) Not to go all corny on you, but for me, gifts are about the connection between the people, not the item itself, so a gift card isn't really saying anything abut that connection. Or, well...maybe it is. :)

Now, excluded from this are gifts from people you know love you, but who might have lots of OTHER people to shop for, and maybe you don't actually know each other all that well ( i.e. Aunts, uncles, grandparents, etc all get passes) But otherwise, no matter how small, I think a specific gift is much better.

KR: Fruit cake or gingerbread?

KK:

Belch. Kinda on both. Heretic, huh?

(LOL. That's the first time anyone's chosen both.)

KR: Just enough decorations or "every tree lighted, blow up snowglobe, snow man in the yard" decorations?

KK:

Hmmm. we're in between! :) We're not crazy, so it's not 'every tree lighted,' but we do like to decorate, so the house feel cozy and festive and inviting. And speaking of blow-up snowglobes, that reminds me . . . my husband is on the hunt for those old-fashioned blowmolds of Santa and his reindeer . . .must go searching online....

KR: Home for the holidays or visiting relatives?

KK:

Home a lot, due to work and money constraints. But we'd love to visit family more!

KR:What are you looking forward to in the coming year?

KK:

Books. :)

(I like how you think.)

Career-wise, I'm looking forward to DECEPTION's release, in August, about a medieval con man and a bankrupt silk merchant. Yay! I'm also going to be self-publishing an ebook novella or two in 2012, which is quite exciting.

(I love how some of my favorite authors are doing self-pub.)

Reader-wise, my excitement over books comes when I think of all the amazing stories that are going to come out in 2012 and light readers on fire. Makes me smile. :)

KR: Author's choice.

KK:

I went back and forth on this question, but here's what I think I want to know: what is it about Christmas stories that you're seeking when you read one? Is it the cozy, the familiar? Is it some theme common to those books? Is it an extra little hit of the trappings of Christmas? What is it that you're looking for? (And if you have any suggestions on stories that have delivered, feel free to share recommendations!)

One commenter will win a copy of Courtney Milan's gorgeous Christmas Victorian-set novella, THIS WICKED GIFT. As WICKED GIFT is in the HEART OF CHRISTMAS anthology, said commenter gets a copy of the entire anthology, with stories by Mary Balogh and Nicola Cornick as well!

Thanks Kris for hanging out during the Joyathon festivities!

HEART OF CHRISTMAS: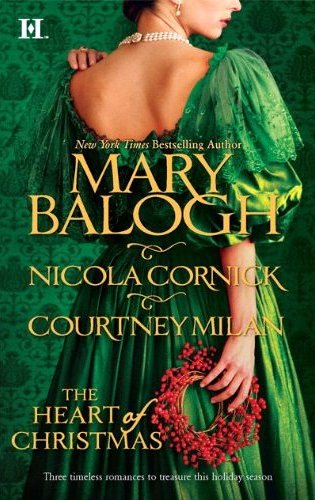 A Handful of Gold- Mary Balogh
Not only is Julian Dare dashing and wealthy, but he's the heir to an earldom. So what do you get a man who has everything? Innocent and comely Verity Ewing plans on giving Julian her heart—the most precious gift of all.

The Season for Suitors- Nicola Cornick
After some close encounters with rakes in which she was nearly compromised, heiress Clara Davenport realizes that she needs some expert advice. And who better for the job than Sebastian Fleet, the most notorious rake in town? But the tutelage doesn't go quite as planned, as both Sebastian and Clara find it difficult to remain objective when it comes to lessons of the heart!

This Wicked Gift- Courtney Milan
Lavinia Spencer has been saving her hard-earned pennies to provide her family with Christmas dinner. Days before the holiday, her brother is swindled, leaving them owing more than they can ever repay. Until a mysterious benefactor offers to settle the debt. Innocent Lavinia is stunned by what the dashing William White wants in return. Will she exchange a wicked gift for her family's fortune?
Where To Buy:
Amazon
|
Kindle
|
B&N/Nook
|
Harlequin
|
Book Depository
Book Extras:
Read an excerpt from
Courtney Milan
Okay. You heard the lady. Kris is giving away a copy of the
HEART OF CHRISTMAS
anthology. Here's how to get your hands on 3 fabulous novellas:
Leave a comment answering Kris's question along with your email addy, ninja style: yourname at gmail dot com
Fill out the rafflecopter form below. You must answer Kris's question. All other entries are optional. I recommend following Kris on Twitter. She's totally fun!
Easy peasy right? Don't forget to enter for the awesome super secret prize
here
.
A huge thank you to Kris for participating in the Joyathon and for giving away a copy of the HEART OF CHRISTMAS anthology.