Meet Tiffany:
Tiffany Reisz lives in Lexington, Kentucky with two roommates, two dogs, two cats (one a homicidal maniac and the other clinically depressed). She graduated with a B.A. in English from Centre College in Danville, Kentucky and is making both her parents and her professors proud by writing erotic women's fiction under her real name. She has five piercings, one tattoo, and has been arrested twice. When not under arrest, Tiffany enjoys Latin Dance, Latin Men, and Latin Verbs. She dropped out of a conservative southern seminary in order to pursue her dream of becoming a smut peddler. Johnny Depp's aunt was her fourth grade teacher. There is little to nothing interesting about her.
If she couldn't write, she would die.
Where To Find Tiffany:
Twitter
|
Author Site
|
Story Time
Kati: Who is Tiffany during the holidays? (author, gift giver, last minute shopper, baker)
Tiffany:
Tiffany is a big sap during the holidays. Seriously, it's shameful. Any cool points I earn during the rest of the year for writing sexy, dark erotica vanish on December 1st. I'm singing Christmas songs and watching Christmas movies...BAD Christmas movies too—Hallmark channel stuff. I usually donate toys for Toys for Tots. I go to church and get all weepy all O Holy Night. I'm a wreck, Kati. Just today I got all choked up when a local radio station gave a single mom a swing set for…*sniffles* her two little kids…*grabs tissue* because money's tight this year…and
Oh, for fuck's sake. Just kill me now.
(I'll let all this slide since it's the holidays and I'm in a fantastic mood.)
K: What is your favorite thing about the holidays?
coming soon
T:
I love buy presents. If I can find one person in my life the present that makes them gasp when they open it then I feel like I've "won" Christmas. My best friend Josh is a huge David Lynch fan. A few years ago I discovered David Lynch was releasing a boxed set so I got it for him. He was stunned as he didn't even know it was coming out. I still gloat about that. It's just so fun to truly surprise someone I love with something they will truly love.
K: Do you write more or less during the holidays?
T:
Last year I had some extra time off at Christmas so I wrote a Christmas short story starring two of my ORIGINAL SINNERS characters. I'm sure it'll be on my blog eventually. But I don't do any real writing over the holidays. Too much going on.
K: If you've written a holiday themed/titled book, what is it about? If you have not, would you write a holiday themed/titled book in the future?
T:
Well, like I said in my last answer, I wrote a Christmas story with a couple of my characters last year. The story's about two of my boys who fall in love with each other in book two of my series. The book ends about August so I wanted to peek into the future and see them a few months
into their relationship. And Christmastime is that fun nightmare of introducing relatives to your new significant other, a rite of romantic passage we all go through. (I'll get to do that this year. Eek!) Since my characters are reoccurring in my series, none of them get their HEA and then walk off into the sunset never to be seen or heard from again. You get to see them in future books. Writing Christmas stories with them is a fun way for me to catch up with them and see how they're doing.
K: How would Daniel celebrate the holidays?
available now
T:
Ah, Daniel, my hero from SEVEN DAY LOAN and
DANIEL, PART TWO
. Now that's an interesting question. I'm going to be writing a Daniel Christmas story as a gift to my readers this month. You'll find the answer on my blog at
www.tiffanyreisz.com/storytime
. The story is called A CHRISTMAS MAGGIE.
(eep!!)
K: What is your favorite Christmas story, book or movie? (Mine is White Christmas)
T:
I'm such a sucker for A CHARLIE BROWN CHRISTMAS that it's embarrassing. I'll watch it alone on youtube and sniffle through the whole thing. I adore LOVE ACTUALLY because it shows how messy and emotional Christmas is for grownups in love. And for books, my favorite of all time is a little kids' picture book called THE LITTLEST ANGEL. I remember hearing the story in my first grade class and thinking, "Wow, that's really well-written." It might be the first book I ever encountered where the writing itself spoke to me as much as the story.
(Wow, you really are a sniffler during the holidays. *Not judging at all*)
K: Is dressing up like Santa sexy?
T:
I think Santa's elves are sexier than Santa. I wouldn't mind dressing up like a hot goth little elf and giving my boyfriend something special under the tree.
K: Real tree or fake tree?
T:
Fake tree. I have kittehs and most cats are allergic to evergreens. Nothing more pitiful in the world than the sound of a kitteh-cat sneezing.
(oh Honeytoast)
K: Fruit cake or gingerbread?
T:
Neither! Christmas cookies with sprinkles!
YUM!
K: Home for the holidays or visiting relatives?
T:
I always go to my parents' farm for Christmas. I am thirty-three years old and my sister is thirty-five and yet…there will be Christmas pajamas that I will be forced to put on and get my photo taken. I come from a family of sadists.
(LOL)
K: Tied up with ribbons or holiday garland?
T:
I'll try both tonight and get back with you.
K: What is on your new years resolution list?
T:
I love New Year's Resolutions. I always try to come up with ones that are fun to keep. One year I resolved to learn how to make origami penguins. Another year I resolved to learn how to
whistle. In 2012 I resolve to learn how to properly cook tofu and master the art of giving blow jobs.
(While cooking tofu?)
K: Author's choice.
T:
What's your least favorite Christmas song? Mine is "Wonderful Christmas Time" by Paul McCartney. Such a brilliant talented man (and a Beatle to boot!) should have been able to write a better Christmas song than that. As best friend Josh says, that song is just uncalled for.
Thanks for putting a little kinkiness in my holidays Tiffany!
HEART OF CHRISTMAS: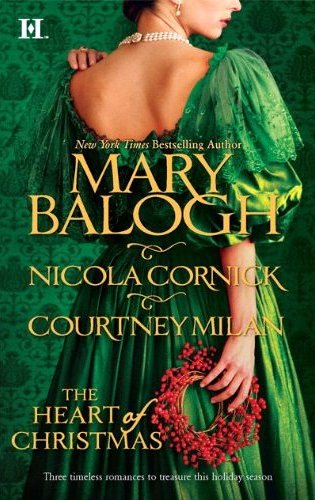 A Handful of Gold- Mary Balogh
Not only is Julian Dare dashing and wealthy, but he's the heir to an earldom. So what do you get a man who has everything? Innocent and comely Verity Ewing plans on giving Julian her heart—the most precious gift of all.

The Season for Suitors- Nicola Cornick
After some close encounters with rakes in which she was nearly compromised, heiress Clara Davenport realizes that she needs some expert advice. And who better for the job than Sebastian Fleet, the most notorious rake in town? But the tutelage doesn't go quite as planned, as both Sebastian and Clara find it difficult to remain objective when it comes to lessons of the heart!

This Wicked Gift- Courtney Milan
Lavinia Spencer has been saving her hard-earned pennies to provide her family with Christmas dinner. Days before the holiday, her brother is swindled, leaving them owing more than they can ever repay. Until a mysterious benefactor offers to settle the debt. Innocent Lavinia is stunned by what the dashing William White wants in return. Will she exchange a wicked gift for her family's fortune?
Where To Buy:
Amazon
|
Kindle
|
B&N/Nook
|
Harlequin
|
Book Depository
Book Extras:
Read an excerpt from
Courtney Milan
Tiffany is giving away a copy of the
HEART OF CHRISTMAS
anthology to one(1) lucky reader. Here's how to get your hands on 3 fabulous novellas:
Leave a comment for Tiffany answering her question along with your email addy, ninja style: yourname at gmail dot com.
Fill out the rafflecopter form below. You must answer Tiffany's question. All other entries are optional. If you decided to follow Tiffany on Twitter, make sure you're okay with talks of vaginas, penises and occasionally fisting... (you've been warned) There's pictures of kittehs too. :)
Easy peasy right? Don't forget to enter for the awesome super secret prize
here
.
A huge thank you to Tiffany for participating in the Joyathon and for giving away a copy of the HEART OF CHRISTMAS anthology.